Arianespace and ISIS to launch small satellites on Vega SSMS POC flight
Arianespace announced today that ISIS – Innovative Solutions In Space – has joined the group of customers who have signed contracts to launch payloads on Vega's Small Spacecraft Mission Service (SSMS) Proof Of Concept flight (POC flight) in early 2019.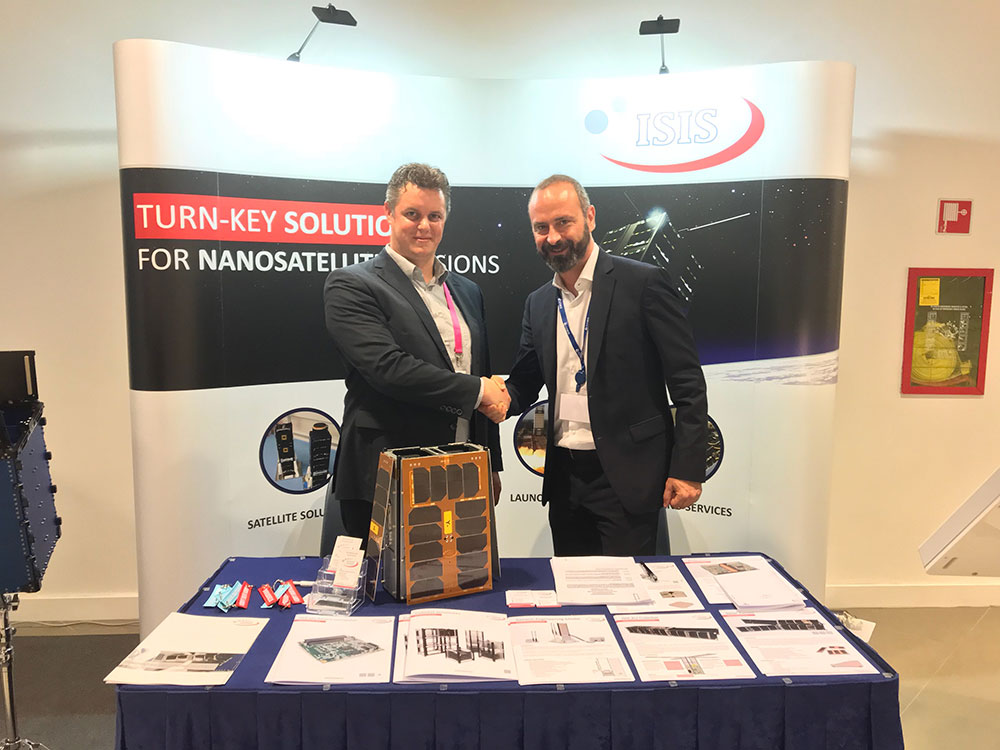 ISIS' small satellites will be orbited on Vega from the Guiana Space Center, Europe's Spaceport in Kourou, French Guiana.
The contract was signed with ISL – Innovative Space Logistics B.V., the launch services subsidiary of ISIS. This agreement includes a QuadPack deployer for multiple CubeSats on the Vega SSMS POC flight, along with options for several microsatellites and more QuadPack deployers for the SSMS POC mission – as well as for subsequent Vega SSMS launches.
ISIS is a leading company in the small satellite market. Founded in 2006, it specializes in realizing innovative turn-key small satellite missions – including launch and operations. ISIS designs and delivers small satellite platforms for single missions and constellations, either standardized or optimized in performance and size tailored to the needs. Through its ISL launch services subsidiary, ISIS has launched more than 270 small satellites of various sizes.
The small satellite launch services covered by the ISIS agreement with Arianespace opens the way for more intense future collaboration between the two companies in launching clusters of small satellites integrated by ISIS through Arianespace.
The Vega Proof Of Concept flight is the first mission of the Small Spacecraft Mission Service (SSMS) program initiated in 2016 by the European Space Agency, with the contribution of the European Commission. For all the European partners involved, its purpose is to accurately address the promising "New Space" microsatellite market with a new rideshare concept on the Vega light-lift launcher.
Vega is part of the Arianespace launcher family, alongside the Ariane 5 heavyweight launcher and the Soyuz medium-lift vehicle, operated from the Guiana Space Center. The Vega industrial prime contractor is Avio, based in Colleferro Italy.
Following the ISIS contract signature, Stéphane Israël, CEO of Arianespace, said: "With this new launch contract, we are proud that Innovative Space Logistics also embarks on Vega's Small Spacecraft Mission Service (SSMS) Proof of Concept flight scheduled in 2019. We are honored of the trust of ISL which, for the first time, is using Arianespace's services to launch a QuadPack deployer for multiple CubeSats. This is a clear demonstration that our Vega launcher and its innovative multiple launch solution are perfectly adapted to the growing needs of the small satellites market. "
Jeroen Rotteveel, CEO of ISIS, added: "We are very pleased to partner with Arianespace on the start of this ambitious European small satellite cluster launch initiative that will increase our options to offer our customers access to space through a reliable launch vehicle."
About Arianespace
Arianespace uses space to make life better on Earth by providing launch services for all types of satellites into all orbits. It has orbited more than 570 satellites since 1980, using its family of three launchers, Ariane, Soyuz and Vega, from launch sites in French Guiana (South America) and Baikonur, Kazakhstan. Arianespace is headquartered in Evry, near Paris, and has a technical facility at the Guiana Space Center, Europe's Spaceport in French Guiana, plus local offices in Washington, D.C., Tokyo and Singapore. Arianespace is a subsidiary of ArianeGroup, which holds 74% of its share capital, with the balance held by 17 other shareholders from the European launcher industry.

(Source: ISISpace, the Netherlands)